Your Full, Brilliant
Smile Awaits
Full Mouth Reconstruction by Your Premier Beverly Hills Dentist
At The Art of Dental Wellness, we believe that a healthy, confident smile is essential to living your most fulfilling and enjoyable life. For many patients, extensive tooth damage or missing teeth leads to a host of problems, affecting self-image, the ability to chew and speak properly, appearance, and overall wellness.
Full mouth reconstruction involves full-arch restoration of the upper and lower teeth and missing structures for a brand-new, beautiful smile. Beverly Hills full mouth reconstruction expert, Dr. Kerri Hill, applies an empathetic ear and advanced dental techniques to deliver comprehensive improvement to the health, functionality, and aesthetic quality of your smile.
Comprehensive Smile Restoration
What is Full Mouth Reconstruction?
Full mouth reconstruction refers to the rebuilding or replacement of all of the teeth within the whole mouth for a comprehensive smile restoration. This highly personalized procedure can involve a number of techniques, depending on the patient's specific issues, condition, and goals for treatment. Ultimately, full mouth reconstruction gives patients with widespread tooth decay, missing teeth, or badly worn enamel damage the ability to "reverse time" and achieve a smile that looks and functions like healthy, natural teeth.
How does
Full Mouth Reconstruction work?
As an expert in a broad range of cosmetic and functional dental procedures, Dr. Hill may employ a variety of treatments to restore or replace missing teeth and improve the form and function of the mouth. In most situations involving severely worn down teeth or decayed teeth, porcelain restorations like dental veneers and dental crowns are used to re-create and support the tooth. In situations where teeth are missing, dental implants are placed. The goal of full mouth reconstruction is to restore your natural bite, restore your natural tooth shape, replace missing teeth, and give you a complete smile back.
Full Mouth Reconstruction at
The Art of Dental Wellness
With a highly developed aesthetic eye and an exemplary reputation for reconstructive dental treatments, Dr. Hill serves as the premier implant and cosmetic dentist in the greater Los Angeles area. Patients from local areas, as well as flying in from across the world, come to see Dr. Hill for her expertise and respected gentle reception. Your personalized full mouth reconstruction at The Art of Dental Wellness will ensure you receive the highest quality care and outcome, both functionally and cosmetically.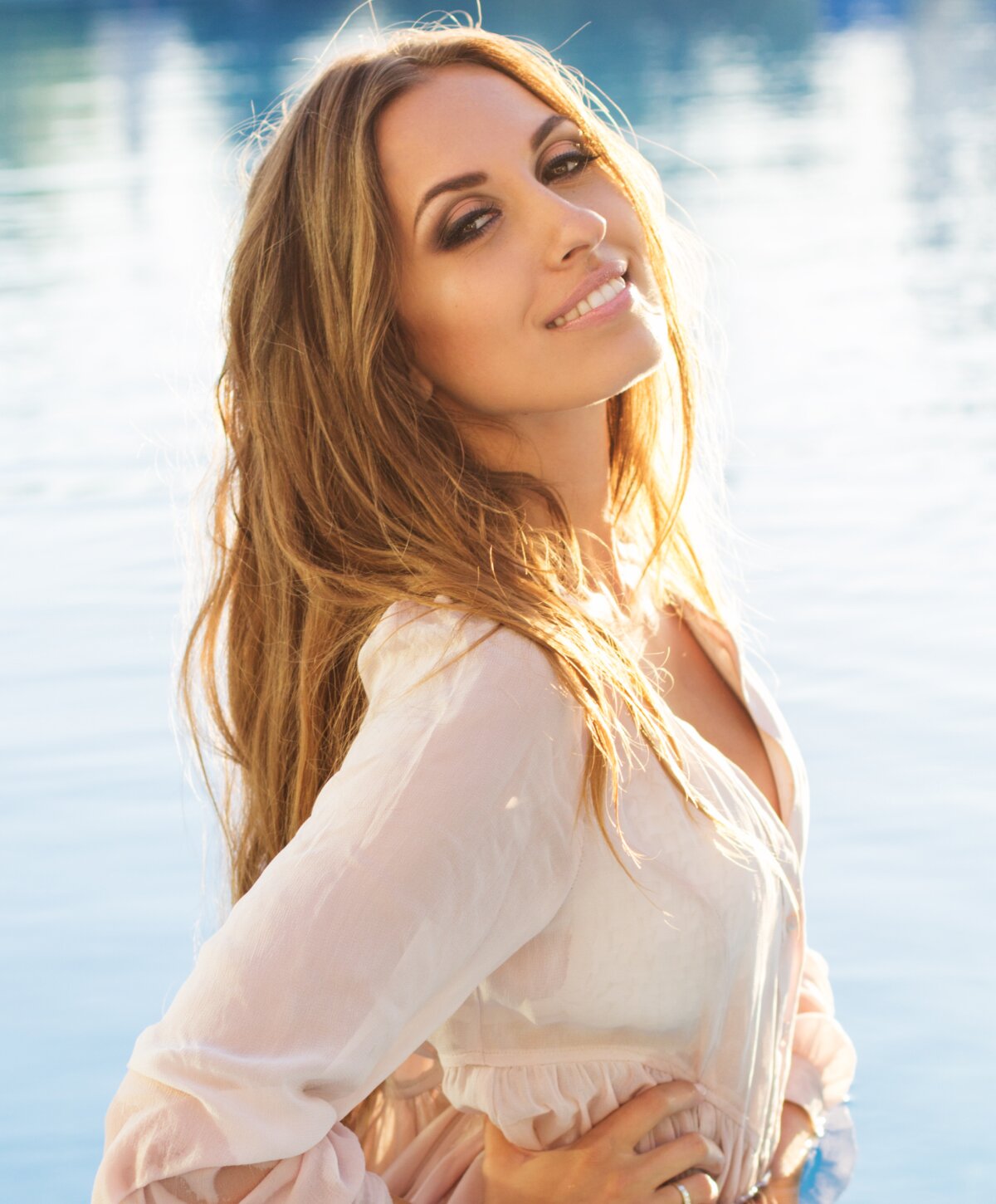 Healthy. Functional. Beautiful.
What can Full Mouth Reconstruction do?
Full mouth reconstruction is a comprehensive way to restore a full, beautiful smile in patients with multiple damaged or decayed teeth, offering such benefits as:
Jaw repositioning
Improved oral health
Restored functionality
Enhanced confidence
Enhanced appearance
Reduction in gum disease
Strengthened dental structure
Reduction in headaches and migraines
Extraction of damaged or decayed teeth
Placement of dental implants or other treatments
Conditions that may make full mouth reconstruction necessary include:
Multiple missing teeth
Cracked or broken teeth
Teeth worn down by bruxism (or teeth grinding)
Numerous teeth in which fillings are deteriorating
Comprehensive, Expert Assessment
The Art of Dental Wellness Full Mouth Reconstruction Patient Experience
We kindly request our first visit to be a 90-minute consultation with Dr. Hill. This is an extremely valuable time when any questions and options can be discussed. She will assess your concerns using state-of-the-art diagnostic imaging tools and listen to your concerns and wishes of where you would like to take your current dental condition. Together, these goals are incorporated into a customized treatment plan tailored to your specific needs to deliver your uniquely stunning smile.
Reclaim Your Smile
Full Mouth Reconstruction
Preparation and Procedure
Your full mouth reconstruction procedure may include a combination of treatment methods, such as crowns, veneers, or dental implants. While crowns and veneers attach to your natural tooth, dental implants (or permanent dentures) attach to a titanium post mounted to the jawbone to permanently replace missing or damaged teeth. During your consultation for full mouth reconstruction Beverly Hills cosmetic dentist, Dr. Kerri Hill, will provide you with the details of your customized treatment plan, including options to make your visit comfortable, safe, and stress-free. Our practice offers IV sedation to ensure your most comfortable experience and optimal recovery.
Let Your
New Smile Take Root.
Full Mouth Reconstruction
Recovery, Results, and Aftercare
The length of your recovery will depend on the details of your treatment. For dental implant patients, it can take, on average, four to six months for the titanium posts to integrate with the jawbone.
Dr. Hill will provide you with temporary prosthetic teeth during this period, so you will be able to smile confidently throughout your recovery. As soon as the implants are fully healed, Dr. Hill will place your permanent prosthetic teeth. For those without dental implants, a full mouth reconstruction recovery can sometimes be achieved with a postoperative visit within a week after receiving your new teeth to check your bite and ensure that everything feels comfortable.
Maintaining your Full Mouth Reconstruction results
Your new porcelain restorations are meant to last years. If your full mouth reconstruction includes dental implants, which are made to last a lifetime, and look and function just like naturally beautiful, healthy teeth, or if your full mouth reconstruction involves your own dentition with either crowns and/or veneers, you will simply need to care for them with consistent, ongoing home care, dental hygiene cleanings, and regular check-up visits to your dentist.
Full Mouth Reconstruction
Frequently Asked Questions
Full mouth reconstruction has an extremely high satisfaction rate. Smiling lets the world know how confident and happy you are. Enjoying eating your favorite foods, speaking with loved ones, and feeling your best self all come from a healthy and beautiful smile. For those with missing teeth, worn teeth, or misaligned teeth, the once-imagined-now-reality appearance can be life-altering. Teeth bring back youth and vibrance to your face. Because your smile can have such a profound impact on your overall mental and physical wellness, it is essential that you receive your smile makeover from a skilled, experienced dentist with a developed aesthetic eye.
Depending upon the complexity of your mouth's current conditions, the entire process can be achieved in as soon as a few weeks or take up to six months or more to complete, but the results can last a lifetime, provided the patient maintains proper oral hygiene and the mouth stays healthy.
Patient-Centric
Implant & Cosmetic Dentistry
Proudly Serving Beverly Hills
Kerri Hill, DDS, offers a uniquely all-encompassing, patient-focused dental treatment experience in Beverly Hills. The expert behind some of Hollywood's best smiles, Dr. Hill's propensity for empathy and meticulous care allow her to make patients' dreams a reality. Begin building your best smile with a comprehensive consultation at The Art of Dental Wellness.
416 N Bedford Dr Suite 409, Beverly Hills, CA 90210